Planet Gymnastics Boys' and Girls' Teams:
Planet Gymnastics' Teams are ALL built on the foundation that Gymnastics is FUN!
Planet offers a variety of competitive programs for both boys and girls whom are interested in being a part of a serious competitive team program. We compete in USA Gymnastics Xcel, girl's junior Olympics levels 5-9 (both boys and girls) as well as the United States Association of Independent Gymnastics Clubs (USAIGC)
We also offer a non-competitive team program for both boys and girls that offers the benefits of being in a team atmosphere with the pressure of competition. These teams do have the opportunity to showcase their skills and routines at any of the gym shows or small meets hosted at our facility.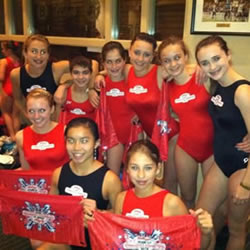 We have the following teams at Planet Gymnastics:
Girl's Junior Olympics levels 6-9.
USAG Xcel, competing bronze, silver, gold, platinum & diamond. These girls compete as few as once a week up to five times per week depending on level. They compete in local, state, out-of-state, and regional competitions.
Girls pre-team starting as early as age 4
High school gymnastics for that high school gymnast that would like to focus on the aspects of their own high school gymnastics team
Men's level 4 – Entry level team program for boys
Men's level 5, 6, 7 and 8 – these boys compete outside the gym in local state and regional competitions.
Team highlights :
2010: Travelled to Fort Lauderdale, Florida to compete in the USAIGC National competition. We left with many overall achievements and placements.
2011: Travelled to AAU Gymnastics Nationals.
Angela Keith – 1st All-Around
Samantha Kane – 2nd All-Around
and many, many others.
2012: Travelled to USAG Xcel Nationals in Orlando, Florida
2013:
Level 8
Kiana Brown is the 2013 Level 8 vault champion
2013 Massachusetts States
Xcel Platinum
Mia Previte is the 2013 floor champion
Xcel Gold
Kendall Giles is the 2013 All-Around champion
Amelia Onishi is the 2013 bars champion
Xcel Silver
Nicole Wood is the 2013 All-Around Jr champion
Miryam Gilfix is the 2013 All-Around Sr champion
Gwen Reimer is the 2013 Vault Sr champion
Katie Flanagan is the 2013 Vault Jr champion
Xcel Regionals
Nira McNiven is the 2013 New England Regional Gold Champion!
Nicole Wood is the 2013 New England Regional silver vault champion!
Haley McGillivray is the 2013 New England Regional silver floor Champion!
Our boys Level 6 team placed 3rd in the 2013 New England Championships
Check out our teams in competition on our YOUTUBE channel ! View PG commercials and various videos of our teams competing at local, state and regional competitions!
Video 1: Angela on the balance beam!
Video 2: Jessie Gold Medal on the floor!
Video 3: Samantha on the floor!
Video 4: Kayleigh on the floor